Bernard Cornwell's
"The Sharpes Series"
This is a personal recommendation, these are both excellent Books and Videos. Some of my greatest quality time is spent reading and Steven King has said that this is one of the best writers around and I agree. Peace and mental health thru good literature is a legal and healthy form of escape. (see my link in my Blogrole)
 
Richard Sharpe is the central character in Bernard Cornwell's Sharpe series of historical fiction stories. These formed the basis for an ITV television series wherein the eponymous character was played by Sean Bean.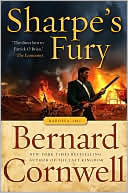 Cornwell's series is composed of several novels and short stories) charts Sharpe's progress in the British Army during the Napoleonic Wars. He begins as a Private in Sharpe's Tiger gradually promoted to a field commission of Lieutenant Colonel in Sharpe's Waterloo. They dramatise his struggle for acceptance and respect from his fellow officers and from the men he commands. Sharpe was born a guttersnipe in the rookeries of London. Promoted on the battlefield he leaves his own class behind to take a commission in an army where rank is usually bought. Unlike many of the officers he serves with, Sharpe knows how to fight.
Sharpe is described as "brilliant but wayward" in Sharpe's Sword, and is acknowledged by the author to be a loose cannon. A highly skilled leader of light troops, he takes part in a wide array of historical events during the Napoleonic Wars and other conflicts, including the Battle of Waterloo.The earliest chronological books (they were published in non-chronological order) are set in India and chronicle Sharpe's years spent in the ranks. He is known for being a dangerous man to have as an enemy; he is a skilled marksman and grows to be a good swordsman.
His frequent appearance is that of a Rifle Officer, armed with a 1796 Model Heavy Pattern Cavary Sword and Baker Rifle. although by Sharpe's Waterloo he has acquired a pistol. He is described as being six feet tall, having long black hair and being blue eyed, with an angular, tanned face. The defining characteristic is a deep scar on his left cheek, which pulls his left eye in such a way as to give his face a mocking expression when relaxed.
1796 Infantry Officers sword